"Young Blood" is the newest inmate at Alcatraz. He came to me from Camelot Kennel and boy does he have a attitude. That is way he's imprisoned here at Alcatraz for Life!
10 Months
22 inches
ADBA reg.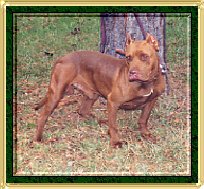 "Tequila"
Registered UKC,
He is the big brother of Storm
Head 23"
wt. 85
2 yrs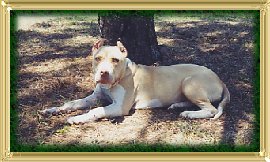 Diamond is our new female and is sentenced for life at Alcatraz
green eyes


A.B. and Anaconda are sire and dam of Storm and Tequila
This site is best viewed at screen size 800 x 600, 16 bit color or better. Microsoft IE Browser
Graphics on this site are property of Alcatraz Dog Kennel and may NOT be used or copied for Personal use without permission from designer and owner.